Nreal, the brand behind the popular Air AR glasses is no more – it's not going away permanently though, it's just rebranding, and launching an upgrade for its specs to celebrate its new name.
Instead of Nreal, the brand will now be known as Xreal. This announcement shouldn't make much of a difference for the company, and it's a heck of a lot better than other companies' name changes in the VR/AR space (looking at you Meta – Oculus was a far superior name for your VR division).
The other (arguably more interesting) announcement is that Xreal's Air glasses are getting an upgrade. The AR specs are able to project a massive virtual screen in front of you; simply plug them into your phone or another compatible device and it's like you're in your own private movie theatre, where you can enjoy the best Netflix shows, the best Xbox Game Pass games, and other content (provided you have a subscription to these or other streaming services).
One minor issue for some is that this screen changes position when you move your head – so for example, if you turn your head away from the screen to talk to another person or check something out in the real world the screen moves with you, continuing to block your vision. To combat this, Xreal is launching Spatial Display – rather than tracking your head's movements, this new tech will stay fixed relative to your body, so your head can move without making the screen jiggle.
Unfortunately, your Nreal Air Glasses won't automatically receive the Spatial Display capabilities. Instead, you'll need to pay up for a new adapter that Xreal is launching called the Xreal Beam – a sort of 'brain' to make your smart glasses smarter.
This "iPod-shaped device" as Xreal calls it can be connected to your phone, PC or console via a wired or wireless connection, and allows you to enjoy Spatial Display. You'll also be able to take advantage of DTS: X Ultra sound tech integration to enjoy higher-quality spatial audio than the Xreal Air glasses have offered before. Best of all, it comes with a built-in 4870mAh battery that can support up to three hours of use, which should fix the battery life problems we had using the regular Air AR glasses.
Xreal hasn't announced a price for the Beam yet, but it has said that it will be available for pre-order from June 1, and will be available to buy some time in the second half of July.
Beam me up
We were pretty impressed with the Nreal Air glasses (now Xreal Air). In our three-and-a-half-star review, we explain how the virtual 130-inch HD image the glasses project in front of you is superb, especially for commuters; but unfortunately, they're a little pricey (costing $379 / £400) and aren't compatible with every smartphone, and they absolutely tear through your device's charge. These negatives keep us from recommending the Nreal Air specs for everyone, even if they're one of the most fun gadgets we've reviewed.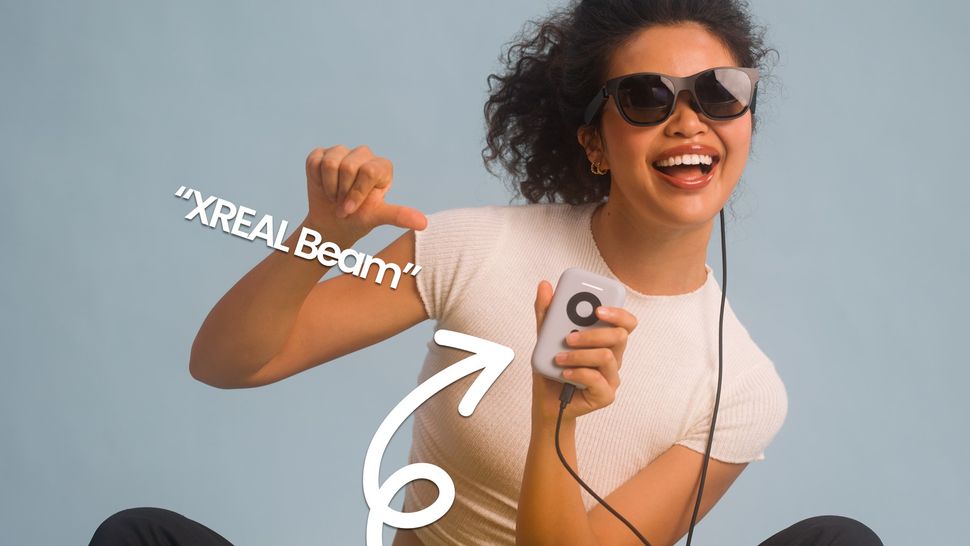 That looks set to change with the launch of the Beam, however. Thanks to its internal battery the Beam should allow you to enjoy the Xreal Air's AR content without your phone running dry as quickly; plus, because it can use a wireless connection, the Beam should expand the Xreal Air's list of compatible devices – the problem is caused by hardware incompatibility with the wired connection.
As great as the Xreal Beam sounds, we'll have to keep our excitement in check for now – for one thing, we haven't yet had a chance to test the gadget out, and we also don't know how much it'll cost.
Once we know for ourselves how well the Xreal Beam performs, and how pricey it is (or isn't, as the case may be) we'll be better able to judge if this new and improved gadget is a must-buy or something that's still a little too niche for the mainstream.
https://www.techradar.com/rss
hamish.hector@futurenet.com (Hamish Hector)